Professional Learning & Development Seminars
The beginning of a new school year comes with lots of challenges. Cambridge has prepared great sessions to make sure

that

educational leaders and teachers,

users of our materials and exams,

are well-equipped

to

start

a unique learning journey with the best assessment experiences.
Based on your location and interest, choose the best session for you.
Click on

each session

to register. You will receive an email confirming your registration.
All events are free of charge, but registration is essential.
Bringing phonics to life for young learners: I like the sound of that!
We might not talk about Bruno (Disney reference for you there!), but we do talk about sheep in socks and parrots guarding grapes from crocodiles. Join us to explore the wonderful world of phonics, through Kid's Box New Generation. Encouraging children to speak is of course key in the primary classroom, so we'll be looking at how you can bring sounds and spelling to life and get everybody talking!
27 April, 09:00 - 10:00 Ecuador
Closing the loop: how to use assessment results to improve learning
You prepared your students for their exams, they took them and the results have arrived… now what? This last piece of the puzzle is where much of the magic happens! In this session, we will explore how to use the results of the Cambridge English Qualifications to boost motivation, celebrate success, plan for the future and develop our students' learning.
25 April, 16:00 - 17:00 Ecuador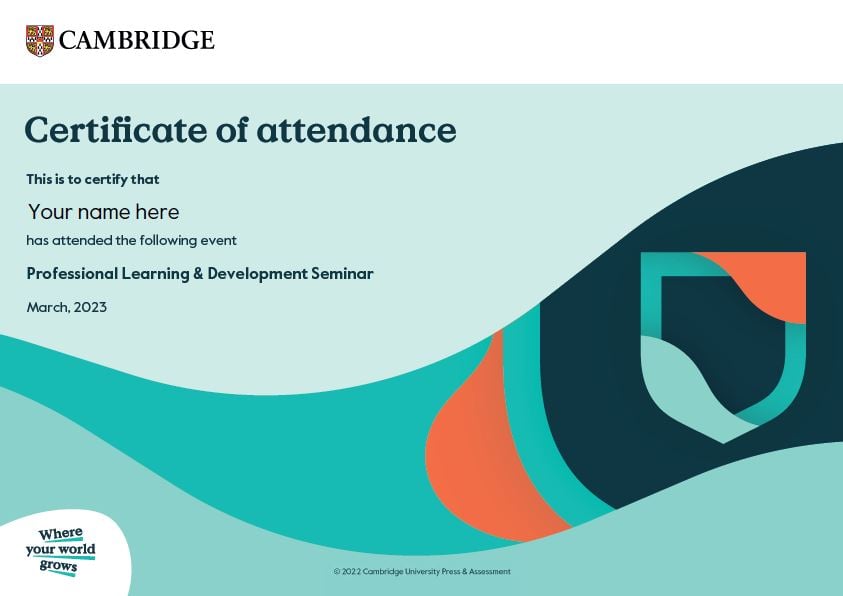 Certificates of attendance
You will receive a certificate of attendance per event.