Professional Learning & Development Seminars
The beginning of a new school year comes with lots of challenges. Cambridge has prepared great sessions to make sure

that

educational leaders and teachers,

users of our materials and exams,

are well-equipped

to

start

a unique learning journey with the best assessment experiences.
Based on your location and interest, choose the best session for you.
Click on

each session

to register. You will receive an email confirming your registration.
All events are free of charge, but registration is essential.
Revise, Repeat, and Recycle building strong language foundations in the pre-primary classroom
Very young children learn to communicate by participating in routinised, repeated interactions. This session will look at how teachers can create an environment rich in language and communication to support the expansion of learners' active vocabulary, develop their phonological awareness, and make connections between the spoken and written word. We will also explore the importance of revising concepts, repeating activities, and recycling language to build confidence and a strong foundation for future language learning.
28 June, 16:00 - 17:00 Ecuador
Keeping your students engaged during their holidays
A break from your English class doesn't mean a break from English! Cambridge has lots of self-access materials ready for your learners to explore in their holidays. Join this webinar to find out top tips on how to keep your learners motivated with their English outside the classroom.
This webinar is aimed at Young Learner teachers and A2 Key for Schools and above.
6 July, 10:00 - 17:00 Ecuador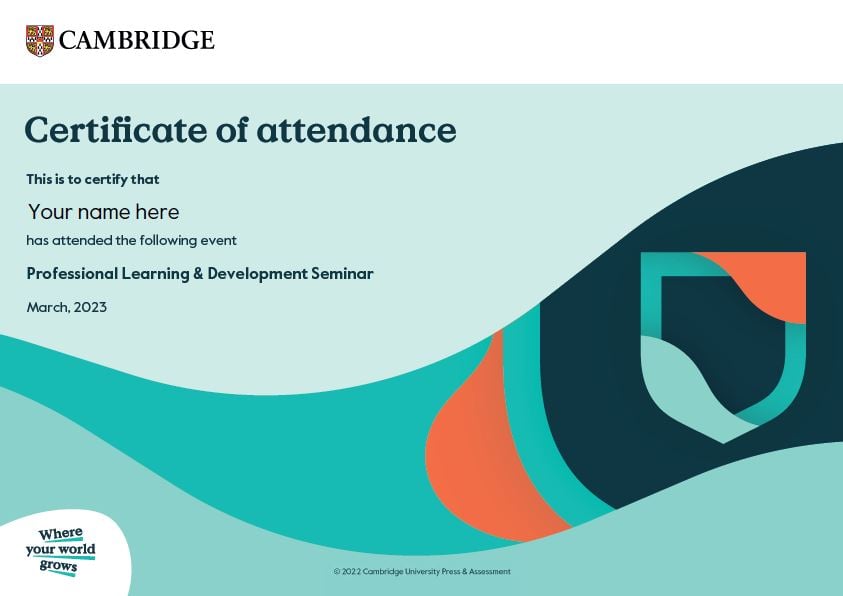 Certificates of attendance
You will receive a certificate of attendance per event.